Upstox account Opening (Demat and Trading account) is a completely paperless online process. Upstox initially known as RKSV securities started in 2008 and Stepped into Stock Brokerage Industry in 2012. it is the fastest Growing Discount Stock Broker in India Has 1 Million+ active Clients. Deals in Stocks, Options, Futures, Commodities, Currencies, and Mutual Funds. It provides a one-stop solution to all your trading and investment needs.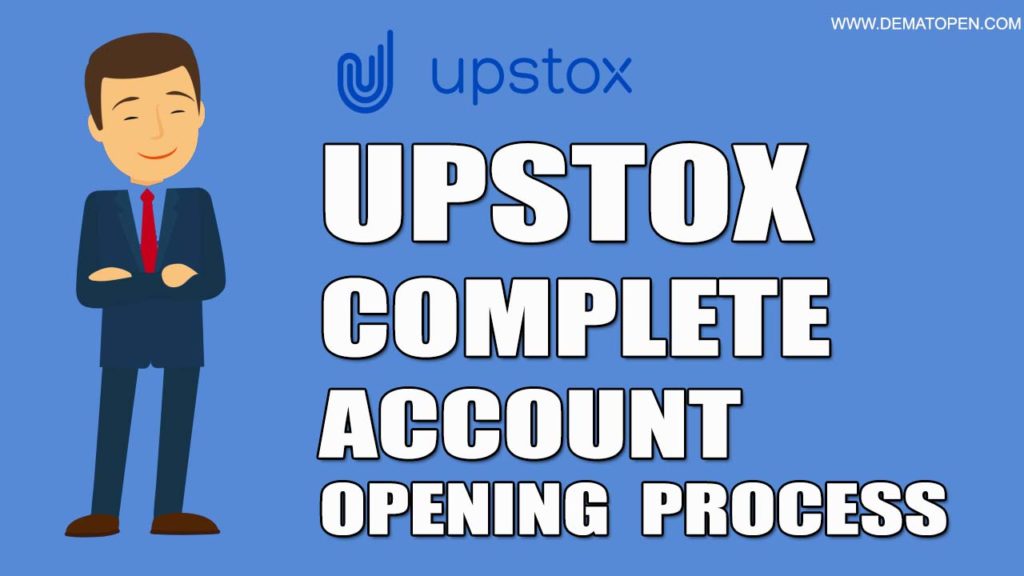 To start trading or investing in the stock market you must have a Demat and trading account. and Upstox offers a hassle-free complete paperless process that takes a maximum of 10 Minutes. If you want to open a free Demat account with upstox you can open it from here.
Steps of Demat account Opening in Upstox are mentioned below.
1: Start Signup process.
To get started you just need to start the signup process, enter your Mobile Number and Email. then you will receive OTP to Verify and then proceed further. Click here to start the process
2: Enter PAN card Details:
Enter your PAN Number and Date of birth it will automatically fetch your basic KYC details From Central Server.
3: Provide Your Details:
Once you verify your PAN card you will be asked for your gender, marital status, Income, Occupation, trading experience etc. Select as per your current standing.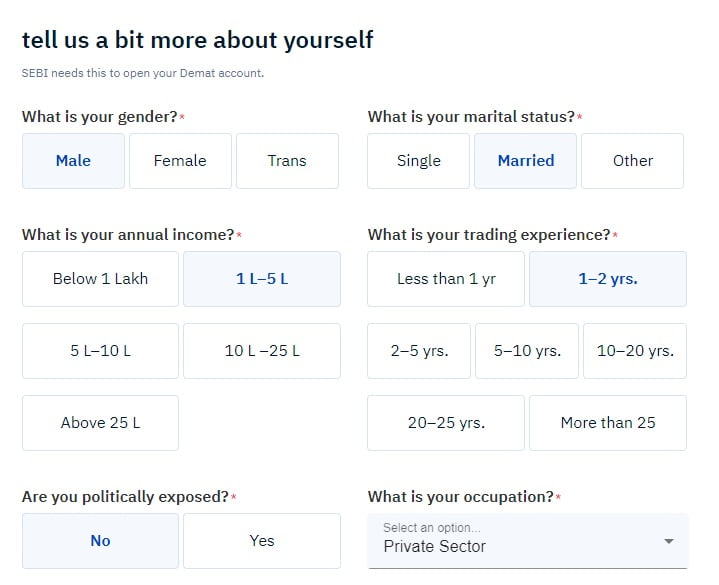 4: Tax payer Self Declaration
If you are Tax payer outside India then select Yes otherwise No, and tick Check box to accept the declaration mentioned in paragraph and proceed further.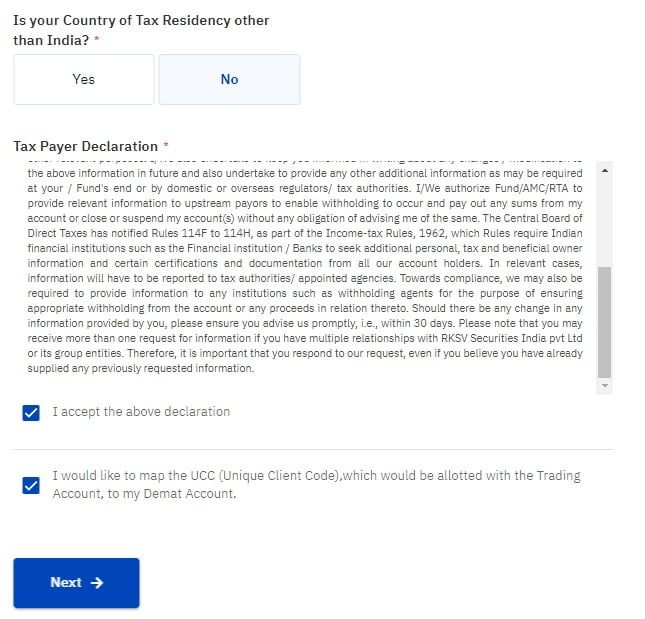 5: Selection of Trading Preferences
Select your Segments in which you want to trade. If you want to deal only in Cash Market or Equity Market (NSE BSE & Mutual Funds) you can select "Equity" if you have interest in Derivatives (Futures and Options) and Currency You can select Second Option Also. To trade in Commodity Market Select the third option also. I highly recommend you to go with all options considering your future needs. It will be a one-time process.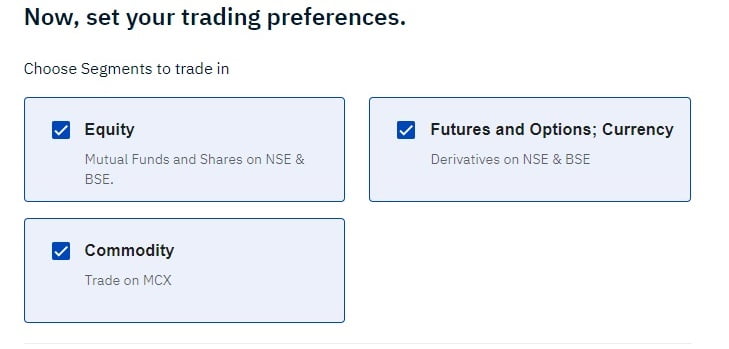 6: Selecting Leverage plan:
Leverage trading enables you to take large position with a relatively small investment, thus maximizing your profit potential.
Example: You have INR 1000 rupees in your trading account, you want to buy shares of ABC company worth Rs.100/Share., in this scenario You can buy Only 10 Shares of ABC company with 1000 rupees but In leverage Trading You can take position up to 27X of Balance in Trading account. Means with Rs.1000 you can take position up to Rs.27000 so technically now you can buy 270 Shares of ABC company. Condition you have to Close Your Intraday Position before market closing.
There Are two brokerage plans are available Basic and Priority: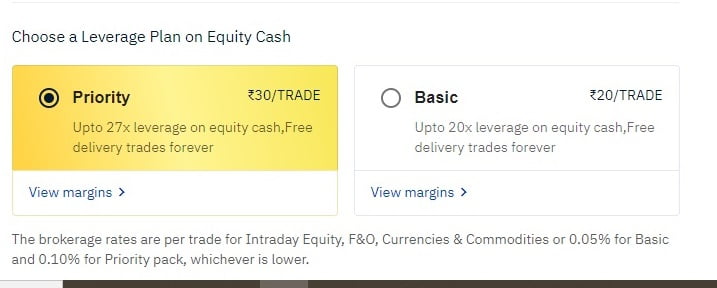 Priority Plan: Up to 27X leverage, with Rs.30/Trade or 0.10% (whichever is lower) Brokerage per executed Order
Basic Plan: Up to 20X leverage, with Rs.20/Trade or 0.05% (whichever is lower) Brokerage per executed Order
So if you choose Priority Plan your Maximum brokerage charges will be 30 Rupees per executed order, or 20 rupees per executed order if you choose basic Plan.
EXAMPLE
| | | |
| --- | --- | --- |
| Trade Value | Priority Plan (Charges) | Basic plan (Charges) |
| Rs.10000 | 10 | 5 |
| Rs.1000000 | 30 | 20 |
| Rs.15000000 | 30 | 20 |
So if you see here despite of your order value your Maximum Brokerage will always be limited to Rs.20 (For basic plan) and Rs.30 (Priority Plan). But if you take small positions then your brokerage will be charged as per percentage Slab and it be lower than usual.
7: Provide your bank Details
In order to transact in stock exchange you need to transfer funds from your bank account to your trading account and for that you need to link your bank account with trading and demat account so that settlement of Funds (Inflow or Outflow) can take place as per SEBI guidelines.
Provide your Account Number, IFSC Code, and Account Name.
Upload Supporting Documents Such as Bank statement or Cancelled Cheque.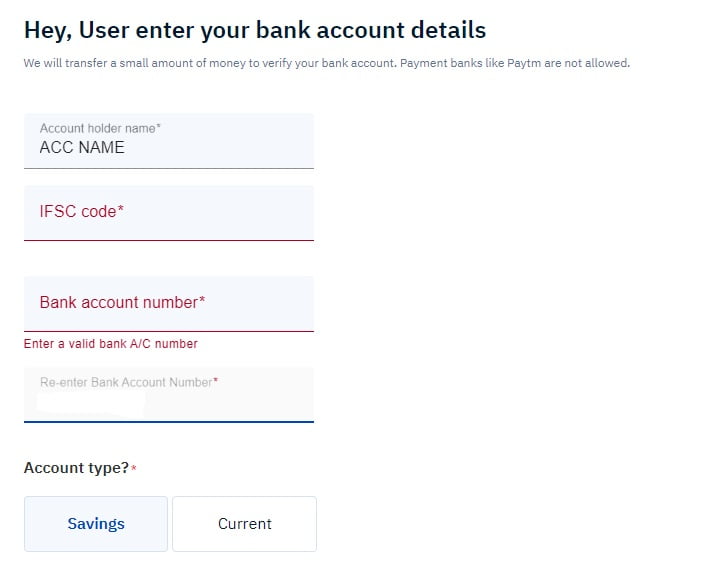 8: Upload KYC documents, Signature, and Income proof.
Now you need to upload your Address proof, Signatures, And Income Proof Only if you want to trade in Future and Options. It can be 6 Months bank statement, ITR, Or Salary Slip.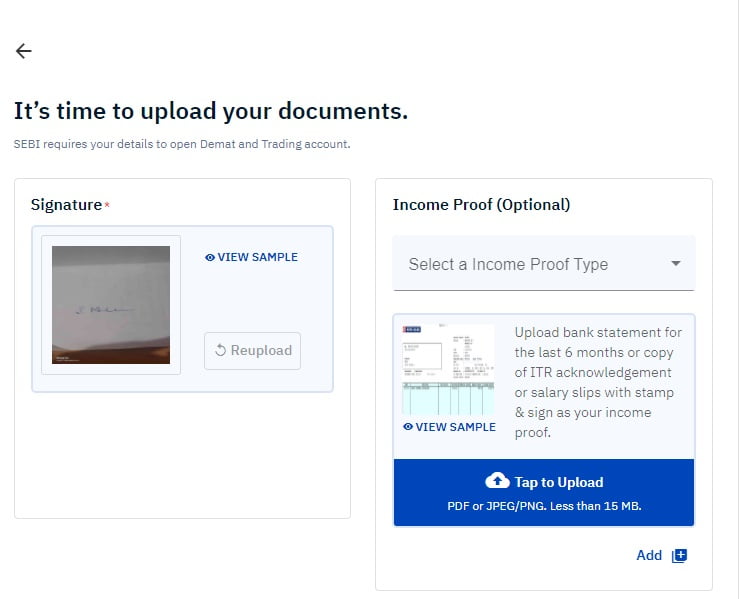 9: Choose Brokerage Credit
Now Pay less For Brokerage Just Buy prepaid brokerage plan and You will get Brokerage credits which can be used for Orders Execution in Market. It Is Cost effective for Traders. Or you can also choose "Continue for Free" If you don't want to avail any prepaid brokerage credit.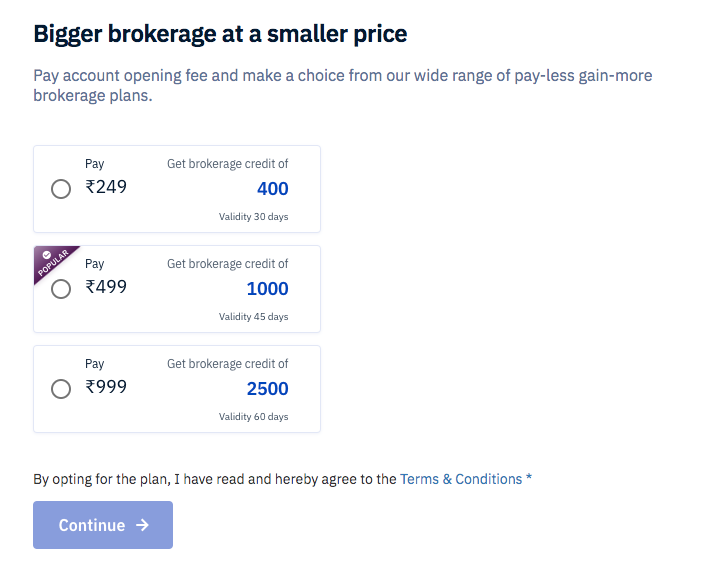 10: Confirm Your Email Address:
All your future communication regarding Trades, Demat Holdings, Contract Notes, Will be sent to your email, So Make sure that you have verified email address.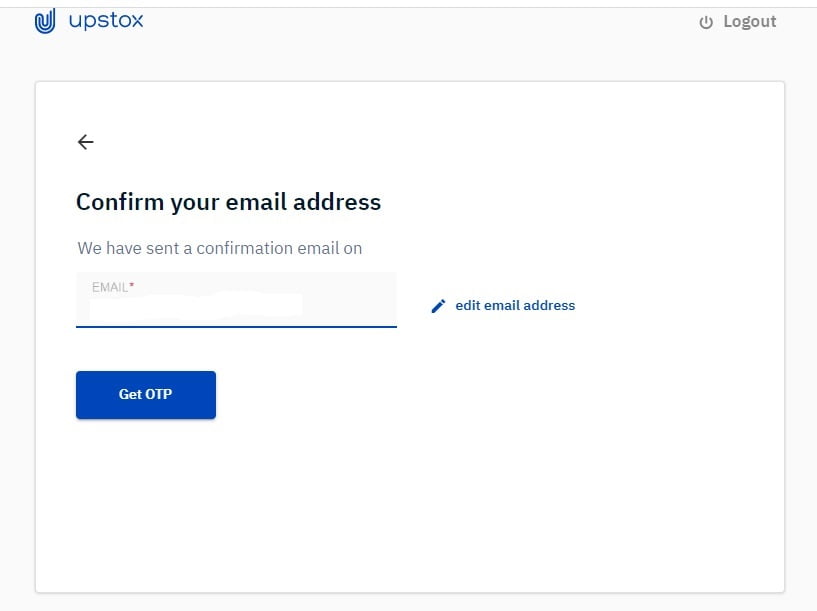 11: Esign Your Application With adhaar.
This is the process which makes demat account opening complete paperless and online. Now you need to Esign your Application with adhaar, A OTP will be sent to your Adhaar Registered Number.
First OTP will be sent to your registered email & Mobile for verification By Digio, after email and Mobile verification you will be shown Your Filled Form You just need to Cross-check all details entered there. Once you assured that all details mentioned on the form are correct you just need to click Sign Now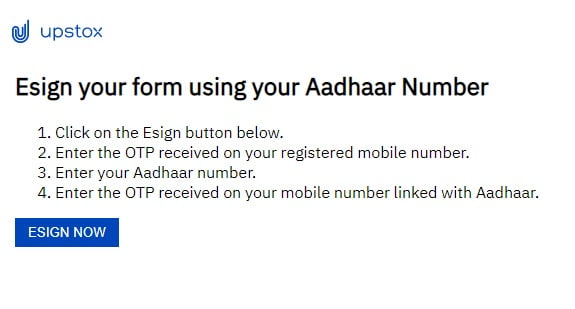 Now NSDL signature service will open and You need to enter your adhaar number and OTP will be sent to your registered Mobile Number (Make Sure that your Mobile number registered with Adhaar) Just enter the OTP and Submit. Your Form has been completed .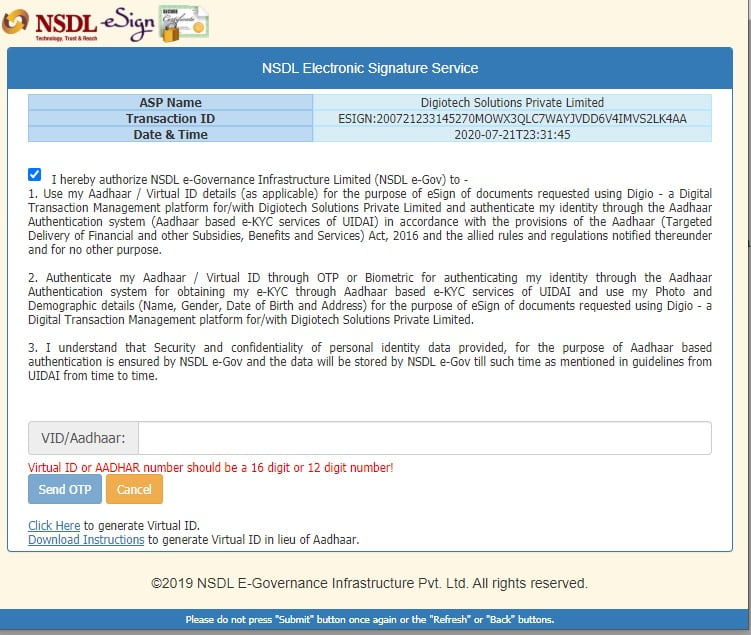 12: IPV (In person Verification)
In-person verification is mandatory as per SEBI new guidelines, if your PAN number KRA verified then there is no need for IPV but if it's not then you need to complete your IPV verification. The reason behind IPV is to verify the Applicant and his documents and to avoid any miss representation in KYC documents, Prevent Money Laundering, And to ensure customer or applicant consent.
You can do this by providing "Self Declaration" in Video Mode/ Online Video Call/Skype / recorded Video etc.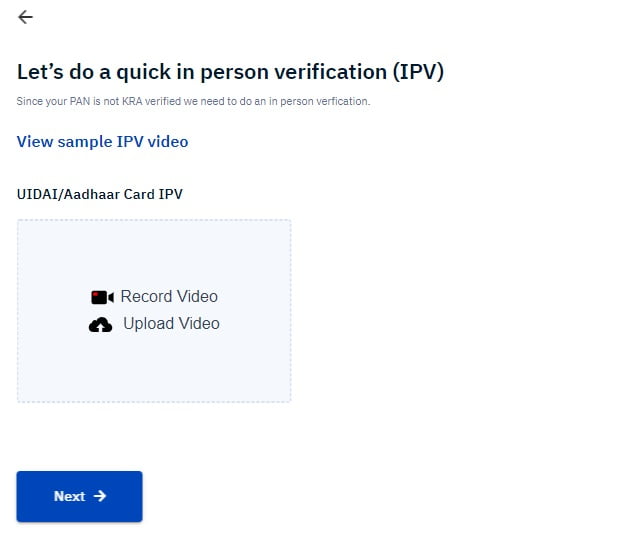 13. Congratulations.! You Have Completed account opening process Successfully
Voila. You have completed all the steps of Demat and trading account opening with Upstox. Now you need to wait for 24hrs to get your account opened. Upstox backend team will verify your details and documents once they approve your application you will receive your User Id and Password in Your Email. You can use that to login into Upstox web terminal or Mobile app to Start Trading and Investing.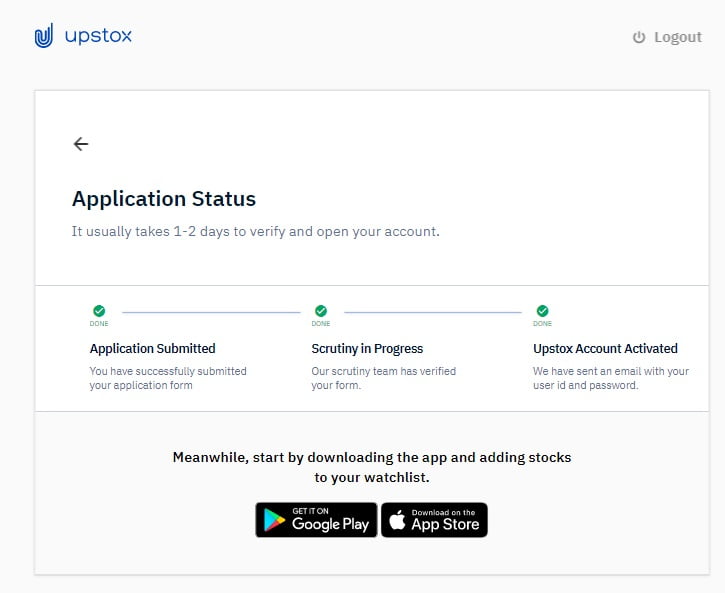 I Hope you have understood the account opening process in upstox if you feel that you are convinced with the details provided above you can open your demat and trading account in Upstox by just clicking here.