Are you interested in 🤑 How to Get TradingView Premium for Free 🤑? If Yes, you have come to the right place. We have a solution that will help you get TradingView Premium Features Worth INR 12000 Absolutely free.
🚀 Upstox, one of India's leading digital investment platforms, has recently announced a partnership with TradingView, a global charting platform that serves over 30 million traders and investors. This collaboration will provide Upstox users with access to advanced charting features, powerful stock analysis tools, and the ability to execute trades instantly on NSE, BSE, and MCX Directly from the Tradingview Charts. 📈
💻 TradingView features available on Upstox platform 💻

The TradingView facility is available for all Upstox users on desktop at zero cost. It includes all charting tools, indicators, multi-chart view and several other Premium features. With over 104 indicators and 80+ drawing tools, traders can place orders instantly, modify them and track them directly from charts.
📊 Advanced charting tools for traders: 📊

With over 104 indicators and 80+ drawing tools, traders can perform a powerful stock analysis to discover new opportunities. They can also trade directly from charts and set up to 8 charts simultaneously. The Options Chain tool enables customers to choose up to 30 strike prices above and below the LTP of the underlying symbol
🤔 What is TradingView? 🤔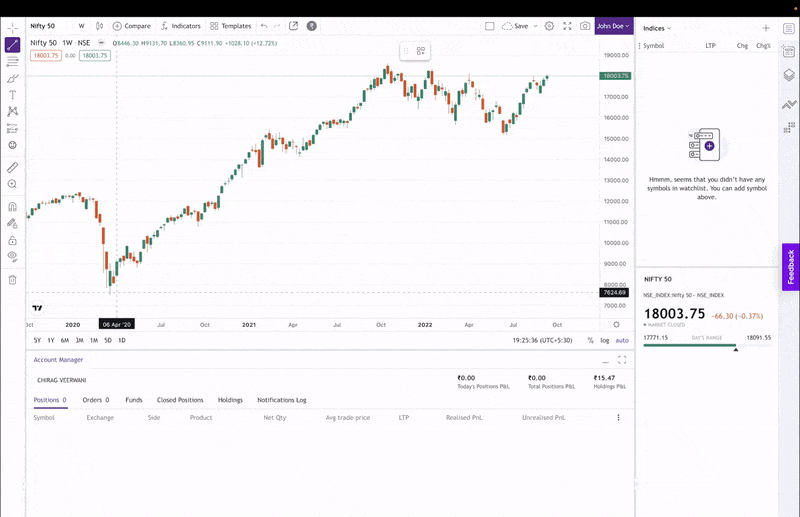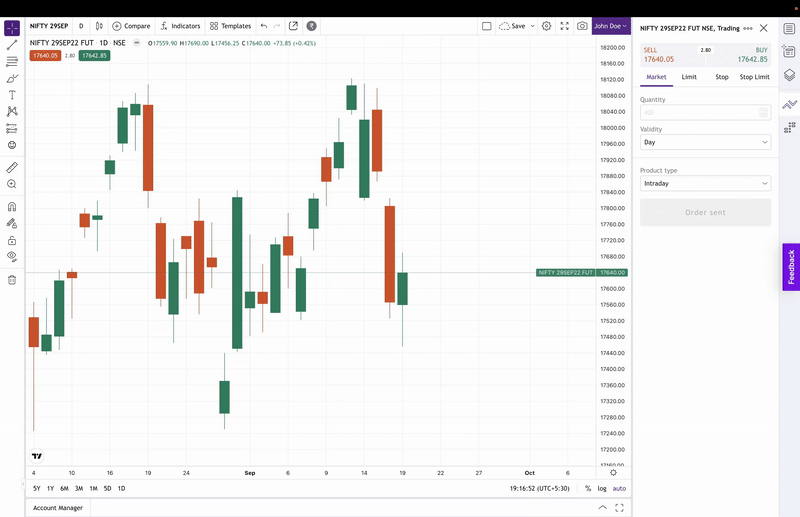 TradingView is a web-based charting and trading platform for professional traders and investors. The platform offers real-time data and charting tools for stocks, forex, futures, and cryptocurrencies. TradingView is available on desktop, tablet, and mobile devices, making it accessible to traders and investors anywhere in the world.
👉 How to Get TradingView Premium for Free with Upstox 👈
Step 1️⃣: Open an Account with Upstox 📝
The first step to getting TradingView Premium for free with Upstox is to open an account with Upstox. You can visit the Upstox website and click on the "Open An Account" button to start the process.
First of all visit the official website of Upstox.
Now click on the button of Sign up now.
Enter your mobile number and click on the Continue button.
A 6 digit OTP will come on the given mobile number, enter it and click on the Confirm button.
After this enter your Email ID and enter 6 digit OTP and click on Confirm.
Step 2️⃣: Complete the Registration Process 📝
Once you have clicked on the "Open An Account" button, you will be directed to a registration page. You will need to enter your personal information, including your name, email address, and phone number.
Step 3️⃣: Complete the KYC Process 📝
Once you have verified your email and phone number, you will need to complete the Know Your Customer (KYC) process. This involves uploading your ID proof and address proof and esigning your application Adhaar OTP.
Now enter your PAN number and date of birth and click on Accept and Continue.
Sign in to your Digilocker account to share your Aadhaar details with Upstox.
After this click on your Allow to Access Aadhaar.
After this Verify your bank account information and your basic information.
Now read all the given instructions and click on Continue by ticking all the checkboxes.
Now to complete the online In-Person Verification (IPV) write the OTP appearing on a piece of paper and place it in front of the camera.
Upload all your documents. Such as PAN, Aadhaar Card, Cancel Bank Cheque, Signature Verify Photo, Income Certificate (mandatory for derivatives trading only)
Now click on e-Sign Aadhaar.
Verify your Email ID by entering your Security Code.
Recheck the account opening form and click on Sign in Now.
Verify your Aadhaar number by entering OTP and click on Submit button.
Upstox allows account opening with few documents.
Adhaar card
Pan Card
And A Bank Account
your Signature & Your Photograph
*Income proof(Optional): Only For Activating Derivatives segement
Step 4️⃣: Enjoy TradingView Premium for Free 🎉
Once you have Opened account with Upstox, you will be able to enjoy TradingView Premium for free. You will have access to advanced charting tools, real-time data, and trading alerts which is worth INR 12000
🌐 Once you Have opened Your Account with Upstox The TradingView features can be accessed on a new web platform hosted using www.tv.upstox.com 🌐
Read Detailed review on Upstox
Disclaimer: The information in this article is only meant to be educational and informative. It should not be taken as financial advice. Investing in the stock market comes with risks. Before making any investment decisions, readers should carefully think about their own investment goals and how much risk they are willing to take. The author and website don't promise that the information is correct, complete, or useful, and they aren't responsible for any losses or damages that may happen as a result of using this information. Before making any investment decisions, the reader should talk to a qualified financial advisor.
[simple-author-box]